Liverpool Socialist Singers formed in 2010 and have been supporting socialist campaigns ever since.
We share socialist ideals.  We stand with those who call for peace and social justice, oppose fascism, fight to protect the environment and support the rights of workers. Music has been used for centuries both to tell stories and to unite people in the struggle against oppression in all its forms. We are part of that tradition and sing at picket lines, demonstrations, political rallies, campaign events and street festivals.
We sing a wide variety of songs including classics such as 'This Land is Your Land', 'The Internationale' and 'Bread and Roses'.  We also write original songs in response to current social and political struggles, for example 'Cammell Laird Celebration' and 'Zero Hours'.    Sometimes we surprise listeners by using new lyrics for well known tunes, such as 'Tory Boys' Picnic' or  'We Won't Be Fracking Long!'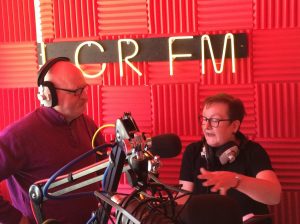 We are an inclusive choir and welcome new recruits.  You don't need to be able to read music as songs are taught by ear.  There are no auditions.  Led by our encouraging Musical Director, Christine Robson, we sing both in unison and in harmony. We rehearse weekly  –  details can be found on the Calendar page.
Members pay a subscription related to income.  As a self-financing group we also welcome donations to help us continue our activities of running the choir and attending events.   If you or your organisation would like to support us, either via a one-off, or a regular donation, please get in touch.   Thank you.
If you would like to join us, or find out more, please contact us.
Alun Parry: Singer / Songwriter says
"It's always lovely when other people sing my songs so I'm happy that Liverpool Socialist Singers sing a few of mine – and do great versions of them too!"
Our MD Chris Robson says: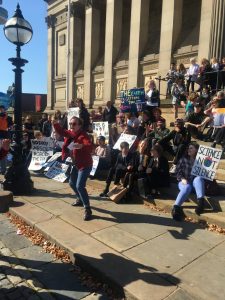 I've been singing as long as I can remember. All of our family had a song to sing at family do's, like most Liverpool families did. As a teacher and music educator in schools then universities I have always had one belief, if you can talk you can sing! I have shared singing with students, children, teachers and colleagues. The power of song for wellbeing led to me running a work-based staff singing group to revive worn out lecturers at MMU. This gave me the bug for working with lively, challenging, committed adults…that's why I love the Liverpool Socialist Singers. I came to give a workshop and three years later I'm still here. A life long union member I can continue to raise my voice with others. How brilliant is that!

Our constitution is currently under review. We will post it in the members area, when it has been completed